Bus & Coach Services From Paihia (Bay of Islands)

Explore New Zealand's North Island with its unique 7 unique geographical regions and diverse natural beauty, from soaring mountain peaks, fiords, lakes, rivers, native rugged bush, the majestic volcanoes of the North Island's central plateau to the central North Island skifields of Whakapapa and Turoa by bus and coach from Paihia in the Bay of Islands.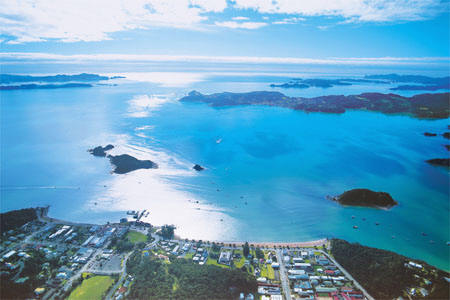 Paihia (Pop 1770) is the main tourist town in the Bay of Islands in the far north of the North Island of New Zealand. It is located close to the historic towns of Russell, and Kerikeri, 60 kilometres north of Whangarei.

With shimmering safe waters and superb beaches, Paihia is a good place to be based for your Bay of Islands experience. Take a relaxing walk along unspoilt beaches, take a guided tour through historical sites or go fishing.

If adventure is what you seek, perhaps try skydiving, parasailing, scuba diving or kayaking. Paihia is the place of friendly locals, happy cafés and people enjoying life.

Whether it is swimming with delightful dolphins, taking in a spot of retail therapy or just lazing under a tree, Paihia is the place for it. Its also where New Zealand's first game of cricket was held.
Rich in culture, history and natural resources, Paihia is the place of friendly locals, happy cafes and people enjoying life whether it is swimming with dolphins, taking in a spot of retail therapy, bush walking or just lazing on the beach.

Known as the jewel of the magnificent Bay of Islands, with shimmering safe waters and superb beaches, there are plenty of recreational activities in among the 144 islands: sail, fish, swim, dive, snorkel, charter a launch or paddle a sea kayak around the islands.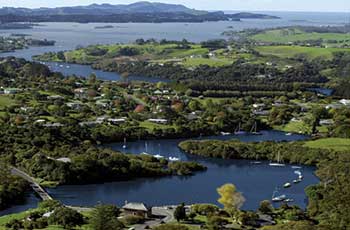 Nearby is the historic settlement of Waitangi to the north, and the residential and commercial areas of Haruru Falls/Watea to the west; the townships of Opua and Russell and the small settlement of Te Haumi to the south.

Travelling from Paihia is in modern buses and coaches with InterCity Coachlines operating a fleet of eco-friendly air conditioned buses with reclining seats and foot rests.

Great Sights operate premier sightseeing and touring coach services using a fleet of modern eco-friendly air conditioned coaches featuring reclining seats with foot and head rests, onboard toilet/washroom facilities and guided commentary.

InterCity Coachlines operates the Starlighter overnight bus service from Paihia to Hamilton, Rotorua, Taupo, Palmerston North and Wellington or vice versa, connecting at Wellington with Cook Strait ferry services from Wellington to Picton between the North and South Islands.

The Starlighter service features reclining seats with foot and head rests, individual reading lights and air conditioning controls, onboard toilet/washroom facility and makes two refreshment/comfort stops on route.

If you want to explore and see New Zealand's unique scenic beauty from Paihia, there are a range of 'Book As You Go' flexi bus and ferry passes giving you value for money travel.