Accommodation:

- Motels, Hotels & Apartments
- Bed & Breakfast Inns
- Backpacker Hostels

Bus travel from Hamilton to:

- Auckland
- Blenheim
- Christchurch
- Dunedin
- Coromandel
- Franz Josef
- Gisborne
- Greymouth
- Hastings
- Matamata (for Hobbiton)
- Invercargill
- Kaikoura
- Kerikeri
- Mt Maunganui
- Napier
- National Park
- Nelson
- New Plymouth
- Ohakune
- Paihia (Bay of Islands)
- Palmerston North
- Queenstown
- Rotorua
- Taupo
- Tauranga
- Te Anau
- Thames
- Turangi
- Whakatane
- Whangarei
- Wanganui
- Wellington
- Whitianga
Bus & Coach Services From Hamilton

Explore New Zealand's North Island with its unique 7 unique geographical regions and diverse natural beauty, from soaring mountain peaks, fiords, lakes, rivers, native rugged bush, the majestic volcanoes of the North Island's central plateau to the central North Island skifields of Whakapapa and Turoa by bus and coach from Hamilton.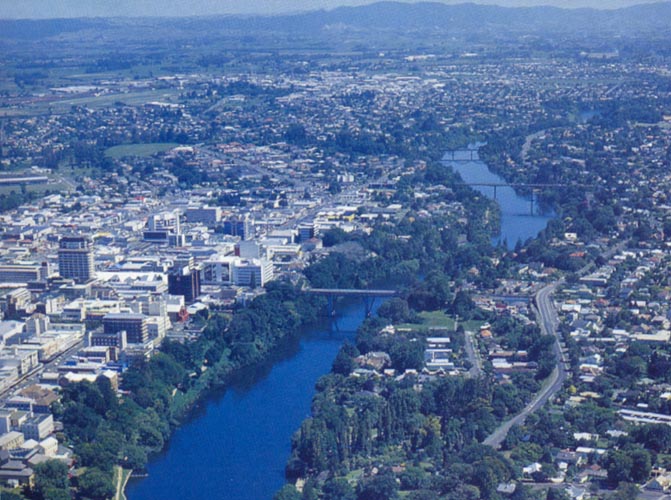 Hamilton (Pop: 193,000) is New Zealand's 4th largest city and is becoming an industrial, financial, educational and IT centre.

The centre of the city, on the Waikato River, is a bustling retail precinct. The entertainment area is quite vibrant due to the large student population. The 2008 Lonely planet guide states that "the city's main street has sprouted a sophisticated and vibrant stretch of bars and eateries that on the weekend at least leave Auckland's Viaduct Harbour for dead in the boozy fun stakes." Hamilton has the second-largest collection of cafés in the country—second only to Ponsonby Road in Auckland.
Hamilton is known for abundant parks, walkways, river jet boating and river cruises, agriculture research, Waikato University, stud farms and the annual National Field day and Hot Air Balloon Fiesta.
Education and research are important to the city, through the University of Waikato, and Wintec (Waikato Institute of Technology). Research at the Ruakura centre has been responsible for much of New Zealand's innovation in agriculture.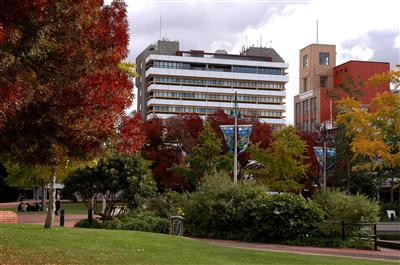 Hamilton annually hosts the National Agricultural Field days at Mystery Creek, the southern hemisphere's biggest agricultural trade exhibition. Mystery Creek is the country's largest event centre and hosts other events of national importance, such as the National Car Show and the National Boat Show.
Manufacturing and retail are also important to the local economy, as is the provision of health services through the Waikato Base Hospital. The city is home to New Zealand's largest aircraft manufacturer, Pacific Aerospace who manufactured their 1,000th aircraft in August 2009, and Max Clear Aviation who manufacture and export high quality micro light aircraft. It also has its largest concentration of trailer-boat manufacturers such as Buccaneer.
Recent years have seen the firm establishment of the New Zealand base of the British flight training organisation CTC Aviation training over 100 airline pilots a year at its "Crew Training Centre" at Hamilton International Airport.

Travelling from Hamilton is in modern buses and coaches with InterCity Coachlines operating a fleet of eco-friendly air conditioned buses with reclining seats and foot rests. Great Sights and Newmans Coachlines operate premier services using a fleet of modern eco-friendly air conditioned coaches featuring reclining seats with foot and head rests and onboard toilet/washroom facilities.

InterCity Coachlines Starlighter overnight bus service operating between Hamilton, Rotorua, Taupo, Palmerston North and Wellington connects at Wellington with the Cook Strait ferry services operating between Wellington in the North Island to Picton in the South Island. The Starlighter overnight service features reclining seats with foot and head rests, individual reading lights and air conditioning controls, onboard toilet/washroom facility and makes two refreshment/comfort stops on route.

If you want to explore and see New Zealand's unique scenic beauty from Hamilton, there is a range of 'Book As You Go' flexi bus and ferry passes that provides value for money travel.